Nordic AMPlify has selected 12 growth-phase companies from more than 100 companies who expressed interest. The program will run twice per year and the top 3 companies from each session will come to Winston-Salem for an intensive US emersion experience.
The multi-year program was organized by local venture fund, FCA Health Innovations. Nordic AMPlify is supported by Nordic Innovation and the official trade organizations of Finland (Business Finland), Sweden (Business Sweden), and Iceland (Promote Iceland) as a mechanism to accelerate Nordic healthcare companies' US market entry.
The selected companies will take part in a three-day virtual immersion tour November 16-18 to learn about doing business in the US and attracting investors. A kick-off event on October 15 will introduce them to the Triad entrepreneurial ecosystem and regional health systems. All sessions will be virtual due to the limitations of international travel during the Covid-19 pandemic. On-site programming will begin once international travel resumes.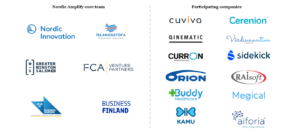 The AMPlify program started in 2009. This is the only program we know of that effectively bridges those market gaps and brings solutions to market rapidly and with US clinical validation. Winston-Salem and the Greater Triad's healthcare, bioscience, and research industries, entrepreneurial ecosystem, and the ease of market entry compared to major metros, made it attractive to the Nordic countries. Part of our mission is to grow the healthcare ecosystem in the Triad and Western North Carolina.
We were extremely impressed with the quality of companies from the Nordics who want to explore Winston-Salem as their US base of operations. The opportunity to bring 25-30 high quality healthcare companies to the area every year is extremely exciting and can create significant, long term opportunities for the region.
The ultimate goal is to improve patient care and experiences – and we have to innovate to do that. The best avenue to achieve innovation is through collaboration, and this program is an ideal way to bring together new ideas and partners that will represent the next breakthroughs in healthcare and tech-enabled care.
An expert panel of venture funds and healthcare experts reviewed the companies' readiness to enter the US market and those with the highest combined scores were invited to take part in the program. They will receive a customized curriculum with modules on US regulations, product-market fit, communications and pitching to investors, and more. The companies will then be paired with mentors from area health systems and other experts to continue to facilitate their progress.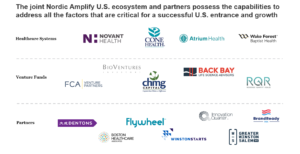 Discovery Tour – October 15, 2020
Branding and Positioning in the US Healthcare Market – November 16
Venture Capital, Supply Chain, and Healthcare Innovation- November 17
Reimbusement, Regulatory, and Building Your Team- November 18
The Incentives Driving US Healthcare Reimbursement – January 21
Five Integration Points for U.S. Healthcare – February 18
Entering the US Healthcare System Legal Fundamentals Roadmap